Mi amiga Paula tiene un sorteo en su blog para un libro de Barefoot Books llamado "La Gallinita Roja". Puedes ver el post original en Growing Up Bilingual o ver un resumen y participar del sorteo aquí abajo.
—
The Little Red Hen is a timeless folktale, in this version by Barefoot Books it is given new life with bright, colorful and dynamic illustrations which consist of collage hung from wires then photographed by artist Kate Slater. Small children will love the repetition and the book delivers important lessons of work ethics, initiative, and natural consequence. The Little Red Hen's lazy neighbors refuse to give her a hand when she asks for help. So the Little Red Hen plants her wheat kernels, harvests them, takes them to the mill to grind into flour and bakes bread all by herself. Once she has baked the bread her neighbors want to join in but she eats it herself illustrating the lesson that those who do not work should not partake of the benefits of others' work. Her friends understand that they have done wrong and the next time she finds a wheat kernel everyone helps out and everyone is able to enjoy the delicious fresh baked bread together.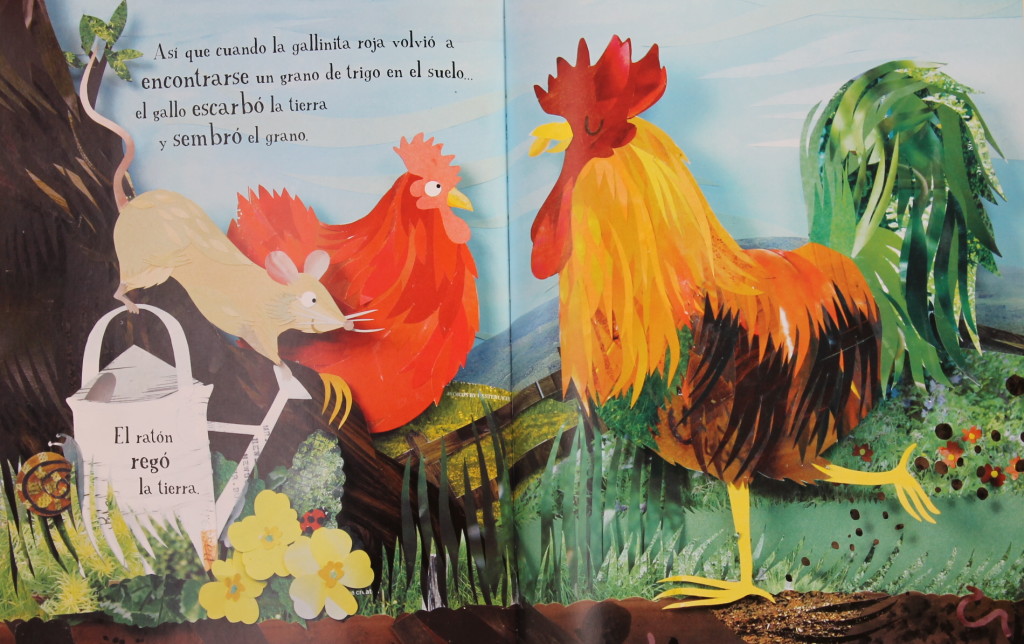 At the end the books include a recipe for bread so you can cook together with your children. The English book comes with an audio CD which includes two versions of the story: one with page-turn chimes and one without. The English version is narrated by non other than Deborah Messing!
GIVEAWAY
Win a copy of La Gallinita Roja and a copy of The Little Red Hen from Barefoot Books . Giveaway open to US residents 18 and older. Ends October 21st at 11:59pm. Enter the giveaway by following the instructions on the Rafflecopter below:
a Rafflecopter giveaway

This blog is not responsible for prize fulfillment. If you have any questions about the giveaway please contact paula@growingupbilingual.com.